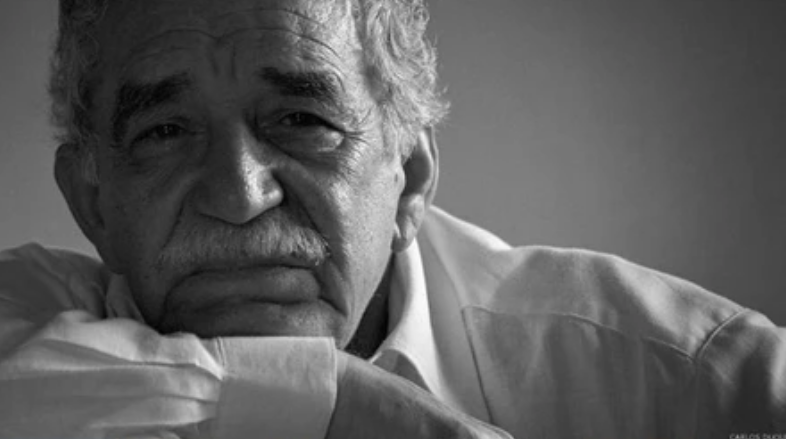 Miami Herald Op-Ed: Colombian writer's words, ideas formed my identity
Following Gabriel García-Márquez's death in 2014, José Dante Parra penned an op-ed for the Miami Herald, which is reposted below.
Photo: Carlos Duque
After reading Gabriel García Márquez's One Hundred Years of Solitude for the first time in 1993, only these words fully describe what I felt: "I am somebody!"
It was my senior year at Hialeah-Miami Lakes Sr., seven years after my family emigrated from Colombia. I wasn't Cuban, like many of my friends. I wasn't "Americano" like the Miami Lakes kids with whom I surfed. But I wasn't Colombian either, as my parents wanted. I cared more for House music than for Vallenato music and I ate sancocho soup because that's what Mom made, but Subway was just fine with me.
I wished I were Greek, though. Man, to have as ancestors Diomedes, who fought gods in front of the walls of Troy, or Admiral Themistocles, who destroyed a Persian fleet of thousands of ships in the straits of Salamis.
Then my teacher, Mr. De Leon, gave me One Hundred Years of Solitude as a requirement in AP Spanish Literature. When I finished the book it was as if Melquiades had come to give me the antidote against the plague of insomnia and forgetfulness that ravaged Macondo. García Márquez's words, in the psyche of a teenager searching for identity, had a telluric effect. I now had my own Iliad.
As I read about Ursula Iguaran's epic voyage into the swamp searching for the son who left with the gypsies, I remembered the story of Mamita Haydee, my grandmother. She crossed alone into Venezuela looking for Papito Fifo, my grandfather. The letters and the money he sent monthly with a friend stopped. After crossing the Guajira desert, Mamita Haydee found my grandfather in Maracaibo, where he worked. They realized the "friend" had been pocketing the money.
Both came back to Valledupar and Papito Fifo went looking for his "friend." Mom says her dad's anger was quiet, but blind. He calmly exchanged words with the thief, so low my mom could not hear. In the fistfight that ensued Papito Fifo broke the man's jaw and several ribs. But as he stood over the bloodied thief, he told him, this time loudly, to keep the stinking money. He had come back to claim his honor and his children's. The debt was settled.
As Colonel Aureliano Buendia battled through the Caribbean coast, I recalled my mother's tale of the Liberal army camping out in my great-great-grandmother's ranch during the War of the Thousand Days. Family lore has it that my young great-grandfather would bring out his accordion by the camp fires and sing with the soldiers:
"Este el amor, amor (It is love, love)
el amor que me divierte (the love that distracts me)
cuando estoy en la batalla (when I'm engaged in battle)
no me acuerdo de la muerte" (I don't remember death).
As I tore through Gabo's book I recognized more and more. The time evil spirits caused river stones to rain on the neighbor's house – I actually remember that. As I read about Indians who wandered Macondo like ghosts, I recalled the Arhuacos in the streets of Valledupar, dressed in their white cotton robes, never speaking to the "younger brothers," as they refer to the rest of humanity gone astray. The more I read, the more I s aw myself: the virtues I inherited from my ancestors and the flaws.
With Gabo's death last week, I realized I wasn't alone in that quest for identity.
" One Hundred Years of Solitude was the first novel in which Latin Americans recognized themselves, that defined them, celebrated their passion, their intensity, their spirituality and superstition, their grand propensity for failure," Gabo's biographer, Gerald Martin, told the Associated Press this week.
I was not the first teenager in search of belonging. I'm not the first American looking for roots, as the myriad of people scouring their connection to Ireland or Africa can attest. But as I mourned a man who shaped me without knowing me, I recalled the joy of the moment when I looked in the mirror. Again, only Gabo's words could explain that feeling:
"His eyes became moist from weeping even before he noticed himself . . . While Macondo was celebrating the recovery of its memory, Jose Arcadio Buendia and Melquiades dusted off their old friendship."
Copyright (c) 2014 The Miami Herald
Record Number: 201404211900KNRIDDERFLMIAMIH_c0e7b99ef0b8803e5fd0ae9499c40098
#JoséDanteParra